Greetings from the Dean of the Graduate School of Law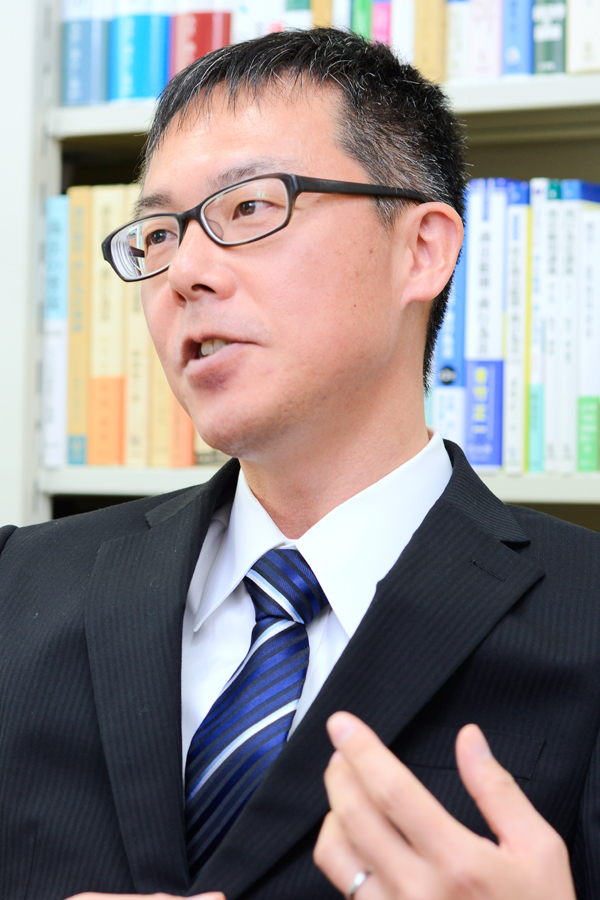 Taro SAKAI 
(Dean of Graduate School)

 The Faculty of Law and Graduate School of Law, Hitotsubashi University, have a long history of producing successful high caliber graduates with both critical and lateral thinking capabilities. Our graduates have availed themselves of a wide range of career options with their remarkable achievements having a global reach and ongoing high valuation, proof itself of the University's outstanding education programs . Hitotsubashi University has two campuses, one in the quiet city of Kunitachi, and the other in Chiyoda city where there is a constant exchange of people, goods, and information. Day and night, both students and faculty members are working hard in either of these environments suited to learning and studying, to acquire or impart academic knowledge as a guide to life, and to address specific problems that require prompt solutions today.
 Following the historical background of the University that was originally established as a commercial school, the lectures of law and international relations were mainly focused on business trade and diplomacy. With the changeover from the Taisho to the Showa era, leading experts were invited from various academic fields such as Dr. Minobe Tatsukichi (constitutional law) and Dr. Shida Koutaro (commercial law) to provide high-level education in parallel with theoretical studies. The foundation of education and research nurtured in this period underwent major reforms in the new post-war university system.
 As Tokyo University of Commerce was reorganized into Hitotsubashi University in 1949, the faculty of law and sociology was established, which formed the foundation for the beginning of the current four-faculty system in 1951 after separation of the faculty of law. By this time there was already a sufficient pool of full-time teachers for the studies of law, public law, criminal law, civil law, corporate law, international law, and international relations, but organizational expansion and reinforcement advanced further to respond to the demands for more sophisticated and specialized education and research.
 In relatively recent news, the Hitotsubashi University School of Law (legal practice course at the Graduate School of Law) was established as a professional graduate school in 2004. We currently have 26 full-time teachers for about 200 students and constant and robust debate continues not only between teachers and students, but among students in or out of the classroom. Most full-time teachers have guaranteed expertise and practical work experience as members of the Legislative Council of the Ministry of Justice or bar examiners. Owing to their contribution, the Hitotsubashi University School of Law has held the top spot in the pass rate of the cumulative bar examination since its establishment. Notably, the percentage of graduates who become judges and prosecutors is higher than those from other law schools.  
 In 2005, the School of International and Public Policy was independently established also as a professional graduate school. Teaching staff from the School of Law and the Graduate School of Economics are committed to training and nurturing Japanese students and many foreign students to help them become highly skilled professionals, as typified by government and international officials. English has also been introduced to many classes.
 In 2018, the Management Law Department of International Corporate Strategy (ICS) was renamed as the Business Law Department and incorporated into the Graduate School of Law in an organizational reform. The Business Law Department provides opportunities to learn advanced theories and their application with adult students who are working at the front line of corporate law, making the most of the locational advantage of the Chiyoda campus, through the intellectual property and GBL (Global Business Leaders) programs. Classes are given on weekday nights and Saturdays so that busy students can join the class.
 Hitotsubashi University Faculty of Law and Graduate School of Law are traditionally regarded as competitive in terms of bar or diplomatic service exams, even though the school is small, and are also active in overseas study. Indeed, this is supported by our traditional system which has been fostered over many years, namely a diverse spectrum of classes by excellent professors, small-group education in seminars (the average number of students in undergraduate seminars is 7), student exchange agreements with 64 institutions from 25 countries, and a generous scholarship program for studying abroad provided by the Josui Kai and the Japan Student Services Organization.
However, in continuing this pioneering spirit, the Faculty of Law and the Graduate School of Law have ambitiously introduced a number of new educational programs. This primarily includes the following:
 (i) Faculty of Law Global Leaders Program [commenced in academic year (AY) 2017]. This program is a combination of numerous classes taught in English, joint seminars with foreign universities, and study abroad.  
 (ii) A five-year undergraduate and graduate program for international relations and international political history majors (commenced in AY 2019). It allows talented undergraduate students who wish to pursue a higher level of expertise to earn bachelor and masters' degrees in as little as five years, and also supports long-term study abroad during the program.
 (iii) Legal professional course (commencing in AY 2020). This is a new curriculum that organically integrated the Hitotsubashi University Faculty of Law and School of Law education for addition to the existing Law course and International Relations course. The course is available to a relatively small number of undergraduate students who have been selected based on their academic performance after admission, and upon meeting the prescribed requirements, students participating in the course can receive a graduation certificate after three years of study and be exempted from taking the written examination required by Hitotsubashi University School of Law. In this course, outstanding students are able to acquire their legal qualifications in a shorter period of time than in the past. Especially, broad-minded and motivated students who intend to study abroad and also aim to be a member of the bar can develop a flexible course plan. This course is designed to help students build a career in law from an early stage.
 In addition, the master's program of the Graduate School of Law launched the Master's Double Degree Program for law students in AY 2018. Under this program, graduate students studying law in the master's degree program can earn a master's degree from Hitotsubashi University as well as the host university (Renmin University of China Law School or College of Law National Taiwan University) in a minimum of two years by studying for one year at either of the most prestigious universities in China or Taiwan. The program allows students to effectively learn the Chinese and Taiwanese legal systems that are rapidly developing in both scope and quality, paving the way for unique legal experts and researchers.
 Lastly, as a framework for providing a research environment for students with a doctoral or Juris Doctor degree and those aspiring to be researchers, the Faculty of Law and Graduate School of Law offer a junior fellowship and a special assistant professorship. There is also the "Next-Generation Law Researchers and Instructors of Law Development Project" aimed at providing financial support and study abroad programs for doctoral students.
 The diverse and dynamic education system and curriculums of the Faculty of Law and the Graduate School of Law described above are closely related to the extensive research achievements made by the faculty members and to the results of research exchange on a global scale. Regarding international research exchange, in the last four years we have hosted 59 workshops and symposia inviting foreign researchers, with a total of more than 60 guest researchers. Collaborative studies with domestic and foreign research institutes are also being conducted actively. One example is the study on the evolution of technology and legal innovation jointly conducted by Hitotsubashi University Graduate School of Law, the National Institute of Advanced Industrial Science and Technology (AIST), and the Faculty of Law, University of Cambridge. The Graduate School of Law has also established a global governance research center as an organization to conduct and support international research activities. Needless to say, communication of study results is also in full swing. Over the last four years, about 60 full-time teachers from the Faculty of Law and the Graduate School of Law have published more than 140 books and 560 articles, respectively, and many of them have been appointed to important positions in academic society, such as director or executive director.
 The enrichment of education is underpinned by enriched research activities by full-time teachers. As the Dean of the Graduate School, I will dedicate my best efforts to ensuring that both the Faculty of Law and Graduate School of Law continue to develop in full cooperation with each other.
Taro Sakai Dean of the Faculty of Law and the Graduate School of Law, Hitotsubashi University